About Us
The Roosevelt Raceway Memorial Website:
The Website was created to present the 48 years of great racing at the Westbury Oval.
About Jack E. Lee
I Talked To The Voice of Roosevelt Raceway, Jack E. Lee. He is Doing Well And sounds as strong as ever. He would welcome your emails.

Email Jack E. Lee At: JackELee63@aol.com
About Memory Lane:
Memory Lane is a 5 Page Tribute Featuring The Excitement, Memories, And Fun Times At Roosevelt Raceway.
One of Harness Racing Greats, Doc's Fella At Retirement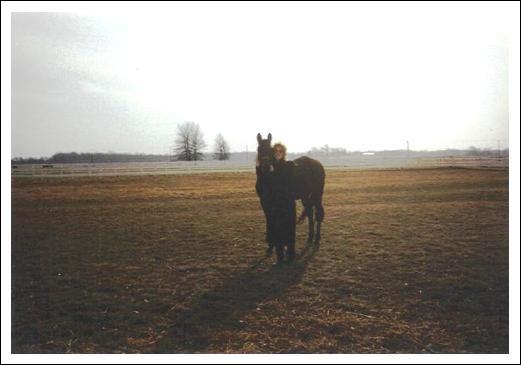 One of Roosevelt Raceway's And Harness Racing Greats, Doc's Fella, finally enjoying retirement, after being purchased & rescued by his former trainer Vincent Aurigemma. Shown here at NJ's White Birch Farm, early 1990's, reunited with Doc's former groom, Joy Aurigemma-McReynolds.
Photo by Vincent Aurigemma. Submitted by Joy Aurigemma-McReynolds
Photo has Been Modified By Christopher James, Webmaster